Publicat în 10 mai 2017, 20:38 / 601 elite & idei
Guide to Romania's Digital Future.
May Edition
Dear supporters and friends,
Our new organization, Smart Everything Everywhere (SEE), is up and running — and we have some news to share. As a quick reminder, SEE is founded by myself, Diana Popp, and Tudor Oprea — the team in the former Prime Minister Dacian Ciolos' Chancellery who initiated and coordinated the GovITHub program and the Digital Romania Industry 4.0 Forum. SEE continues our previous work in the PM's office along three main lines: digitizing Romanian industry, smart cities and citizens, and the digital state — in close contact with the former GovITHub fellows. Thank you for your continued support — our partners, collaborators, and supporters are key to the success of all our initiatives.
On April 28, SEE organized a
meeting between Andrus Ansip, Vice President of the European Commission responsible for Digital Economy and Society, and 6 successful Romanian startups
. We believe top European decision-makers understand Romania's tremendous potential in the hi-tech field — and great presentations by
BOX2M
,
Coinflux
,
Silometer
,
Profluo
,
TypingDNA
and
DeviceHub
drove this point home. Snapshots from the event can be found
here
,  and more details
here
. We're grateful for the great support received from
MVP Academy
,
TechHub
,
Europuls
and  the
European Commission's Representation in Romania
in organizing this event.
We are proud of our results during our mandate with the Prime-Minister. Our progam, GovITHub, won the 
Webit awards "Best Innovation Through Legislation for CEE Region"
prize! Webit is one of the largest tech festivals in Europe, gathering some of world's top enterprise leaders, Europe's top policy makers and the hottest startups and founders. Congratulations to the fellows and volunteers who made this program a success!
Yesterday, our friends from MVP Academy showcased the latest batch of startups graduating their acceleration program. MVP Academy acceleration program supports exceptional founding teams to define their product and go-to-market strategy, build their team, generate early traction and obtain pre-seed or seed financing.
Young IT enthusiasts gathered on the weekend of 6-7th May during the
"Young Citizens for Europe" Hackathon
, organized by the
Danube Youth Alliance
under the patronage of the
European Parliament's Information Office in Romania
. Smart Everything Everywhere and Webby-Soft were the main partners for this event that aims to bring youth closer to the democratic values of the European Union. The three teams developed interactive tools such as chat bots to help European citizens with useful information about the member states, a game that simulates the decision-making process of MEPs and a general information quiz  about the EU. Over the next weeks the teams will work together with their mentors to further refine and develop their ideas, which they will present in high schools and conferences around Romania.
On
May the 17th
, the
Danube Youth Alliance
with the support of the
Austrian Embassy in Romania
and
Smart Everything Everywhere
will organize the conference "
Youth's perspective on Romania's public diplomacy within the EU
". The purpose of the conference is to define the youth's perspective on, and its role in Romania's public diplomacy in the EU regarding several key aspects: Cultural, Economic and Digital Diplomacy. Stakeholders from these domains will meet youth representatives in order to establish common goals and a series of concrete activities that will transform conclusions of the debate into reality. If you're interested in participating, please write an email to
office@danubeyouth.ro
mentioning the workshop in which you want to participate
until May 10th
and keep in mind that space is limited. Please find the schedule of the event
here
.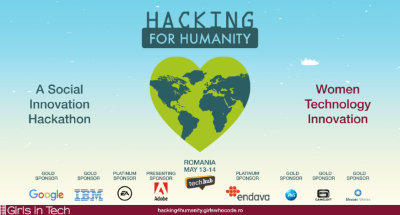 Hacking for Humanity Hackathon
is the perfect occasion for you to innovate and create social good at the same time. Help drive innovation in organizations who are working on encouraging a good governance, a better education, help single mothers, monitor policies, help persons with disabilities, promote alternative transport or help the victims of domestic violence. See the finalist NGOs
here
. Hacking for Humanity is open to both genders — you can
register
as a team or as an individual if you know web/mobile/front-end/back-end development, design, UX, product management, marketing or growth hacking.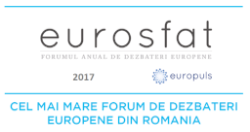 Europuls
organized another successful edition of the
Eurosfat Forum on April 28
. Eurosfat is the largest event in Romania on topics of European interest. This edition welcomed more than 600 participants, and reunited 61 speakers around 11 central themes. The Eurosfat 2017 Forum also hosted the
Citizenship Dialogue
with Andrus Ansip, Vice President of the European Commission, and Leonard Orban, Presidential Counselor for European Affairs. Europuls and SEE prepared a
policy brief
that contains specific digitization policy recommendations for Romania and various ideas debated in the EU Digital Agenda workshop.
Fundația Națională a Tinerilor Manageri
invites you to join the
Smart City 2017-2020 Needs – Solutions – Methods
conference on
May 30-31

at the Pullman Hotel in Bucharest
. The debate will provide a dialogue platform about urban needs and personalized solutions that can be adopted for investing in the future and well being of city residents. The event will host city, municipal and local council officials from across the country, public administration experts, IT&C companies, utilities companies, banks, lawyers, Romanian and foreign consultants, architects, scholars, the press, and other stakeholders in Smart City initiatives.


Club Romania | Elite si idei / www.oranoua.ro - Open Source Internet Database part of a non-governmental project / Contact: office[at]oranoua[.]ro | Operated by CRSC Europe